Brooklyn Nets at Miami Heat (-7, 191.5)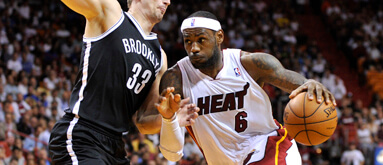 The Brooklyn Nets won all four regular-season contests against Miami this season and recording four more would qualify as quite the upset as they prepare to face the host Heat in Tuesday's opener of the Eastern Conference semifinals. Brooklyn won three of the meetings by a single point and also recorded a 104-95 double-overtime victory as a veteran group led by Paul Pierce isn't intimidated by LeBron James and his teammates. Miami is certainly the more rested team after completing a sweep of the Charlotte Bobcats on April 28.

The sixth-seeded Nets went seven games against Toronto in the first round before squeezing out a 104-103 win on Sunday to advance but are highly confident in terms of facing the two-time defending champions. "We know we can beat them, but it is going to be a lot different from the regular season in the playoffs," swingman Joe Johnson said after Sunday's win. "So we understand that we will definitely have our work cut out for us and it is going to take a collective team effort." Miami knows it will have to play better in the playoffs to stymie Brooklyn. "Hats off to them because they beat us four times," guard Ray Allen told reporters. "We don't particularly like how we played in those games."

TV: 7 p.m. ET, TNT

LINE HISTORY: Books opened the Heat as 7-point home faves. The total opened 191.5.

INJURY REPORT: Brooklyn Nets - C Brook Lopez (out for season, foot). Miami Heat - F Michael Beasley (Questionable, ankle).

WHAT BOOKS SAY: "Got sharp bet on Brooklyn +8 (-120), buying a 1/2-point, so we moved Miami to -7.5 (-105). Seventy-three percent of cash and 69 percent of bets are on the Nets. Brooklyn not only covered, but won all four regular season meetings straight up with Miami."

WHAT John Logan SAY: "Brooklyn went 4-0 SU versus Miami this season, but three of the four wins came by a single point, and the other win came in overtime. Tough spot for the Nets in Game 1 since they come off a Game 7 on the road and play on the road again with just one day of rest. However, Miami hasn't played since April 28, so they have been off for seven days which could disrupt their rhythm."

ABOUT THE NETS: Brooklyn has a veteran group led by Johnson and Pierce that won't succumb to the playoff pressure against the Heat. Forward Kevin Garnett is no longer the big-time force but he is always ready to mix it up on the boards and point guard Deron Williams thrives when he's in attack mode – which the Nets will need him to be to slay the Heat. Part of the offseason spending spree was designed with Miami in mind and the regular-season success is at least an indication that the series won't be one-sided. Getting solid contributions from complimentary players like guards Alan Anderson, Shaun Livingston and Marcus Thornton and forwards Andray Blatche and Mirza Teletovic will be necessary.

ABOUT THE HEAT: The extended break should be good for James' injured thigh and guard Dwyane Wade's troublesome knees. James was injured in Game 4 of the series against Charlotte and has been undergoing treatment and told reporters that he will be "close to 100 percent" for the series opener. Miami could use some improved interior play against Brooklyn after being outrebounded by an average of 6.3 boards in the four regular-season meetings. Udonis Haslem was in a starting role against the Bobcats but veteran reserve Chris Andersen (8.5 points, 4.3 rebounds in the series) was a much more significant contributor.
Sports Betting Tips from John Logan: Take Miami Heat -7

NBA Basketball Basketball - Sun 5/4
Dallas Mavericks +6.5 -107 @ San Antonio Spurs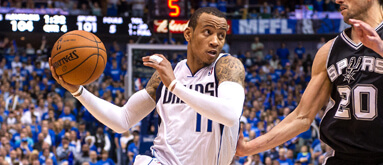 Dallas Mavericks at San Antonio Spurs (-6.5, 197.5)

Series tied 3-3.

The Dallas Mavericks aim to become the sixth No. 8 seed in NBA history to win a first-round playoff series when they visit the San Antonio Spurs for Game 7 on Sunday. Dallas rallied to grab a 113-111 win in a do-or-die Game 6 at home Friday, pushing the Spurs to the verge of its second first-round loss as a top seed in just four seasons. The Mavericks will be undaunted by a Game 7 on the road, having won Game 2 in San Antonio by 21 points and going to the wire in their other two road games.

The numbers are in San Antonio's favor, as home teams were 91-23 all-time in Game 7s in all rounds entering the weekend, but Dallas has given itself a chance to pull off the upset. "It's the ultimate thrill," Mavericks forward Dirk Nowitzki said of having one game to stay alive. San Antonio is 3-5 in Game 7s, including a loss in the NBA Finals last season and another in overtime against Dallas in the 2006 Western Conference semifinals.

TV: 3:30 p.m. ET, ABC

LINE HISTORY: The Spurs opened as 6-point home faves but have been bet to -6.5. The total opened 198 and has been bet up to 198.5.

INJURY REPORT: Mavericks - Jose Calderon (Probable, Nose).

WHAT FRANK SAY: "While the Spurs controlled the regular season meetings, going 4-0 SU (3-1 ATS) versus the Mavericks, that has not been the case in this playoff series. It is tied 3-3, but the Mavericks are a perfect 6-0 ATS as their three playoff losses have come by just 5, 4, and 6 point margins. Home teams historically win Game 7 straight-up, but covering might be a different story as the current line is Spurs -6.5 and San Antonio has yet to win by that large of a margin in this entire playoff series."

ABOUT THE MAVERICKS: It is clear that Dallas missed the presence of forward DeJuan Blair in its Game 5 at San Antonio, as the former Spur was suspended during the Mavericks' 109-103 loss but returned to provide 10 points, 14 rebounds and four steals on Friday. Blair, Devin Harris and Vince Carter combined for 34 points off the Dallas bench in Game 6, continuing a solid contribution for the reserves in support of Nowitzki and Monta Ellis, who is the top scorer among both teams in the series. "We pride ourselves on trying to outscore and dominate the other team's second unit," Carter said after the Mavericks' bench secured a 37-25 scoring advantage on San Antonio's reserves.

ABOUT THE SPURS: Despite the loss in Game 6, San Antonio has to feel good about the emergence of guard Danny Green, who shook off a series of lackluster play with 17 points on 7-of-7 shooting in the loss. Green had only six baskets combined in the first five games and was never a factor down the stretch until he buried a big 3-pointer with 12 seconds left to help keep the Spurs close in Game 6. His emergence did plenty to offset a difficult game for fellow shooting guard Manu Ginobili, who entered leading the team in scoring for the series before going 1-for-8 from the floor and missing all five of his 3-point tries in a six-point showing.

TRENDS:
* Mavericks are 6-0 ATS in the last six meetings.* Over is 4-1 in the last five meetings.* Underdog is 8-0 ATS in the last eight meetings.* Spurs are 0-8 ATS in their last eight vs. Western Conference.
CONSENSUS:
54 percent of wagers are on the Mavericks.
Frank James's Free NBA Pick: Dalas Mavericks +6.5 Point Spread

Golden State Warriors at Los Angeles Clippers Free NBA Picks & Odds
Saturday, May 3 on TNT, PT, CSBy
Staples Center, Los Angeles, California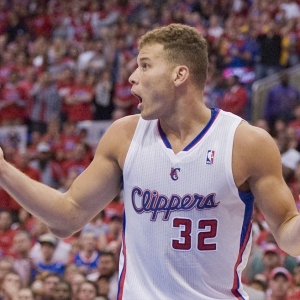 The Golden State Warriors were able to hold on to their late Game 6 lead and beat the Los Angeles Clippers 100-99 on their home floor to force a Game 7 in Los Angeles. Neither team shot particularly well in the game, but the Warriors only had eight turnovers in the game while the Clippers ended up with 12.
The game was close all night, but the Warriors were able to gain momentum in the third quarter when they outscored the Clippers 22-16. The Clippers missed multiple shots with less than ten seconds remaining in the game and Stephen Curry missed his last free throw on purpose to kill off the clock.
Curry only made nine of his 24 field goal attempts in the game, but he certainly was the team leader on the night and finished with 24 points and nine assists in the win. Draymond Green had his best game of the series so far by scoring 14 points, grabbing 14 rebounds and also coming away with five steals. Marreese Speights came off of the bench for the Warriors to score 12 points and grab six boards.
Blake Griffin had a tough night shooting for the Clippers, making just eight of his 24 shots and finishing with 17 points and nine rebounds. DeAndre Jordan only scored nine points for the visitors, but he did pull down 19 rebounds. Six Man of the Year Jamal Crawford had 19 points off of the bench in the losing effort.
ATS Trends
Golden State is 23-18-0 ATS on the road this season
Golden State is 16-24-1 against the over/under on the road this season
Los Angeles is 21-20-0 ATS at home this season
Los Angeles is 21-20-0 against the over/under at home this season
Injuries to Watch
Golden State
11/02/13 C Festus Ezeli Knee out indefinitely
04/14/14 C Andrew Bogut Ribs out indefinitely
Los Angeles
No injuries to report at this time
John's Free NBA Pick: Take Los Angeles


Houston Rockets at Portland Trail Blazers
Free NBA Picks & Odds
Friday, April 25, 10:30 PM
Moda Center at the Rose Quarter, Portland, Oregon
The Houston Rockets lived to fight another day on Wednesday night when they were able to beat the Portland Trail Blazers 108-98 in Game 5 of their series to make it 3-2 Portland. The bench scoring was the story of the game in this one, with the Rockets' bench outscoring the Trail Blazers' bench 34-5 on the night.
Houston had the lead for most of the game and entered the fourth quarter up by five. After the Trail Blazers were able to cut the deficit down to two with a little over three minutes remaining in the game, the Rockets were able to finish them off by scoring 12 straight points to put the game out of reach.
Dwight Howard did his part for the Rockets yet again by scoring 22 points and grabbing 14 rebounds in the win. Omer Asik also had a double-double for Houston with 10 points and 15 boards on the night. Jeremy Lin came off the bench to make nine of his 15 field goal attempts and ended up with 21 points and four assists for the hosts.
Wesley Matthews finished with a game-high 27 points for the Blazers on 9-of-18 shooting. Point guard Damian Lillard finished with 26 points, seven assists, eight rebounds and four steals in the losing effort. Center Robin Lopez ended up with 17 points and eight rebounds for the road team.
ATS Trends
Houston is 18-23-0 ATS on the road this season
Houston is 22-19-0 against the over/under on the road this season
Portland is 19-22-0 ATS at home this season
Portland is 22-18-1 against the over/under at home this season
Injuries to Watch
Houston
02/20/14 G Ronnie Brewer Ankle out indefinitely
01/25/14 F Greg Smith Knee out indefinitely
Portland
No injuries to report at this time
John's Free NBA Pick: Take Portland Trail Blazers MoneyLine